Not long ago, I found a Russian Saint-Petersburg Metro token at home (I guess, I brought it from my last visit of Russia) and 5 ruble coin. Turning it in my hands, I decided to make something with it since I cannot use it here anyway:) Besides, coin jewelry has been popular since coinage began.
I did not want to make any holes in it, so the chain mail bezel should work.
Jump rings are woven so that they hold the token firmly in place.
You will not believe, just after making this "Russian" pendant, my daughter found a genuine Slovenian 1 tolar, 1995, coin and
Canadian Elizabeth Head Penny 1969 coin
. I wanted to make a bezel for them too!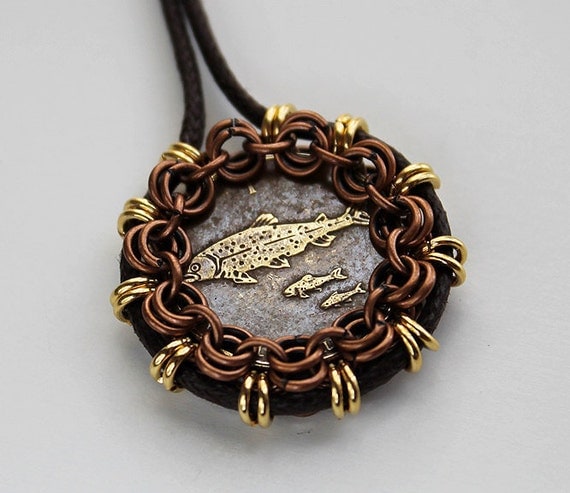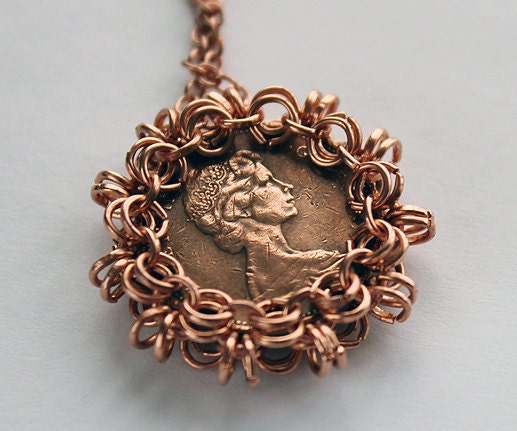 Enough with metal tokens and coins, I thought :) But I wanted to do more... I had a Cameo waiting for its lucky moment. There you go!
Well, coins and Cameo work fine with this technique, now I wanted to try it with a cabochon, which is a little thicker. I had a black onyx round cab.This black onyx cabochon is extremely well-cut and polished. Black onyx has traditionally been used to banish grief and enhance self-control. Oxidized silver plated jump rings are woven so that they hold the coin firmly in place... and it turned out very nice, I think :) Although, it took an hour to "battle" with slippery cabochon to squeeze it into the bezel :)
Diameter of
this pendant 1 3/4" (45mm):

If you want to know how to make a chain Mail bezel yourself, I have a tutorial for it here . And, by the way, if you want to purchase the pendant(s), you can find them at my Etsy Shop.