I never thought I would do anything with metal etching. Well, never say "never", right? Thanks to Meredith Arnold, I wanted to try etching.
I had everything I needed to start: metal (copper and nickel silver) disks, PCB Enchant (ferric chloride), Staz-On ink with rubber stamps, black ultra-fine Sharpie, washing soda, gloves...
First, I started with copper disks. I bought a small stamp with butterfly at Michaels (on sale for $2.00)

and a leaf stamp for $1.00. I used to make scrap-booking
cards and books. What could be easier to make a nice stamp? Hah! Paper and metal "behave" differently. If it was easy to make a leaf stamp, but my butterfly wanted to "fly" away and smear the print... I had to re-stamp it 3-4 times, I think.
But I am happy with the results.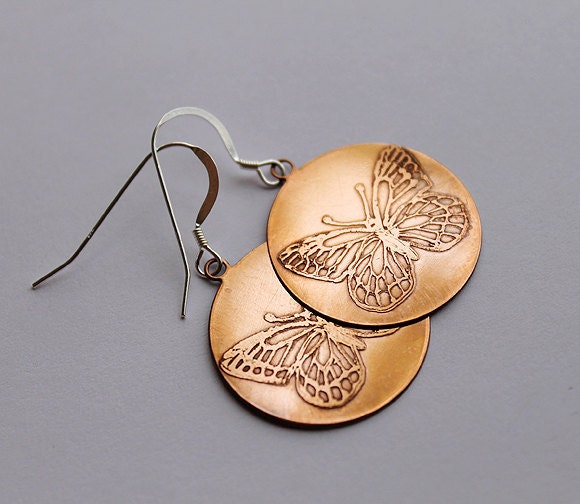 Well, I was happy with copper, but not satisfied with nickel silver disks :( Initially, both metals, copper and nickel silver, were shiny...
After etching, copper came out shiny, but NS etched part was dull even after polishing with Euro-Shine and polishing cloth. Maybe I need something else to polish them...or just give them to my daughter to play with :)
UPD. Finally, I polished them (and domed)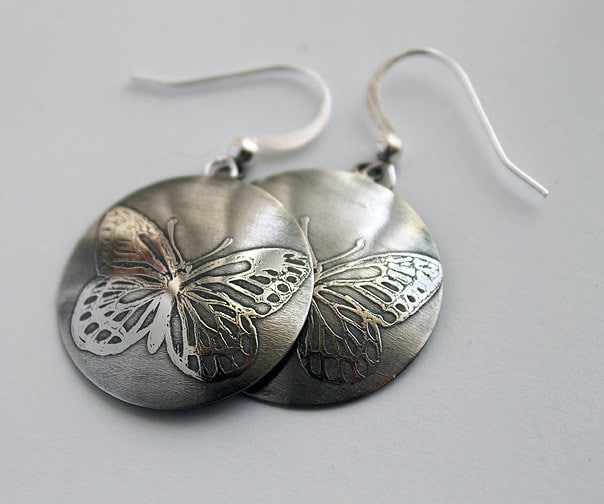 UPD2. Beaducation has a new FREE class: Etching Base Metals
. In just 15 minutes, you will learn the basics of etching copper, brass and nickel silver with ferric chloride.